Galipatam

Galipatam is an annual cultural festival celebrated in National Institute of Design, Vijayawada in collaboration with the residents of IJM Society. It is celebrated in the month of February during the time of the harvest festival, also known as Makar Sankranti in South India.

Students of NID have been living on a transit campus since the past three and a half years. The hostels are part of a residential area called IJM. Oftentimes it was observed that there was a communication gap between the students and the residents. We wanted an ice-breaker. And hence Galipatam was initiated in the year 2017. In Galipatam 2018, I was part of the Promotion Team where I worked on the Identity, Invitations, and Promotional Video.

Every year Galipatam comes out with such an energy that fills the students as well as the residents with a joyous amount of warmth and zeal. Being in Promotion, our effort was to bring out the high spirits of the festival through colours and patterns that reflect what the festival is all about. Personally, I feel this project was the best use of my Design Education. To apply our knowledge to create something that brings people together and to make them happy. If that's not design then what is?


Identity Design & Art Direction, January 2018

About the Identity

The identity is inspired by Andhra Muggulu and Indian Kite Shape. The main aim of the logo was to capture the carefreeness and enthusiasm of someone who's just about to throw the kite in the air. Kite has been taken as an inspiration mainly because of its continuous movement and energy. It is airborne, not static and has an organic flow to it. It is symbolic of freedom and open-mindedness.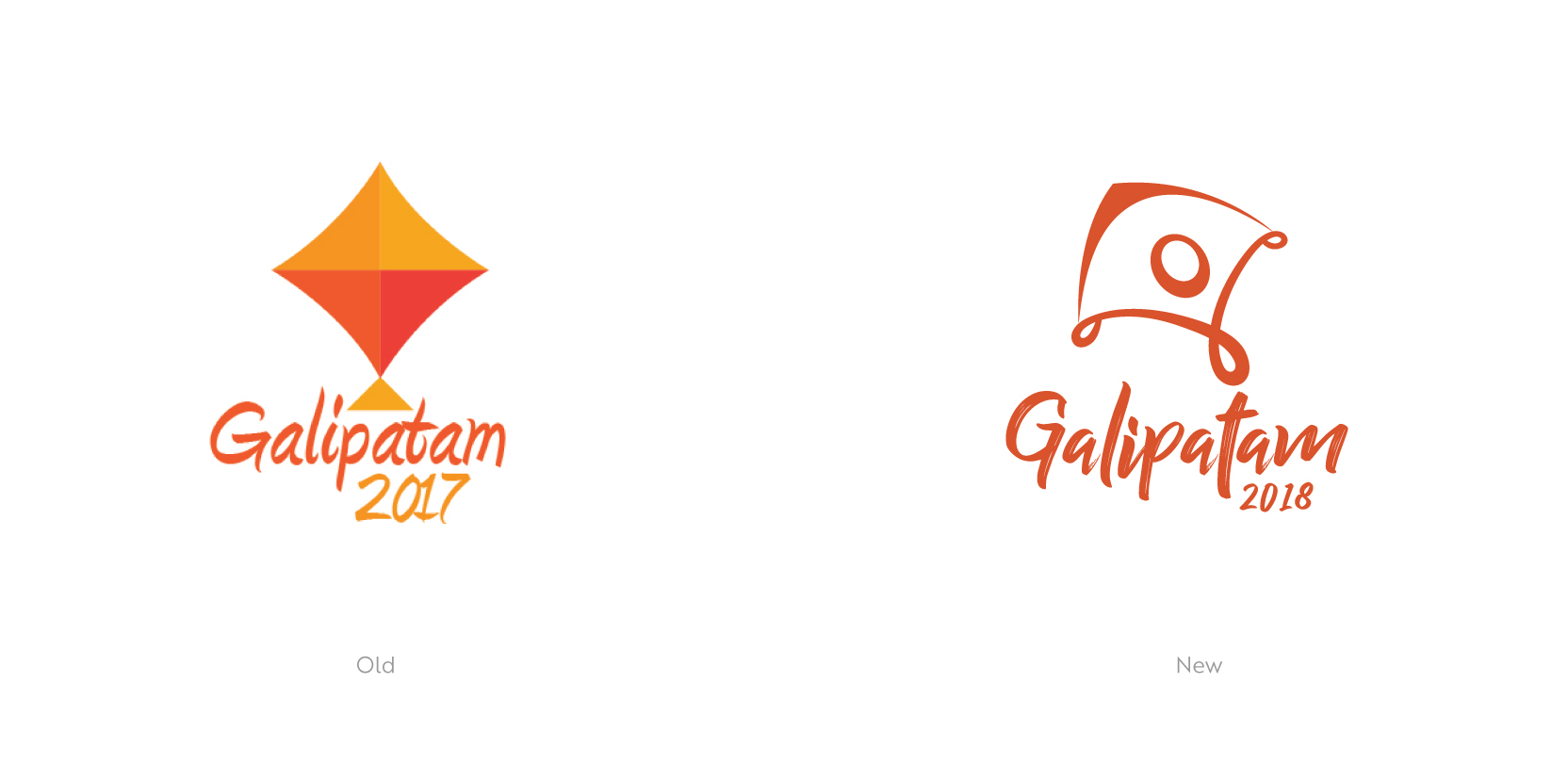 Invitations
Inspiration for the invites was taken from one of the most prominent ingredients of Makar Sankranti, the Kites. Muggulu, which is the traditional rangoli of Andhra Pradesh was used as a design element. We wanted to make sure that the invite is opened in the correct direction. The type was overlaid on top for a better experience while opening the invite. The design of the invite was done in such a way that the need for a separate envelope was eliminated.
Galipatam Promotional Video
We wanted to connect our culture and traditions as students, with their rituals and celebrations. To portray that in the end, festival is what brings us all together. Pre-production involved researching about all the Andhra traditions & their ways of celebration, submerging my hands in cow dung, running around for the right sweets, buying new clothes, learning how to make a Muggulu, and getting the right hands for the final shot.
Typography Poster by
Prabhat Paswan
Sponsor Poster by
Ayan Choudhury

Tshirt Design by Sanjoyana B. Choudhury and Prabhat Paswan



Aftermovie by Aravind Baalaji