Chyaa
Temi Tea is a high-quality pure tea, well-known in India as well as in the world. If you come to Sikkim, it is the one of the best souvenirs you can take back for your loved ones. Our brief was to design a souvenir package for Temi Tea powder for the brand Sikkimis (now Tapestree).
Chyaa is inspired by Sikkim's culture, stories, and its mountains. Each package is a little piece of Sikkim that tells you a story from the heart of India's mountain state. It is crafted to give you the essence of what Sikkim is all about.

After a series of form explorations, the final output was inspired by the slopes of Temi Tea Garden in South Sikkim. Being a souvenir product it needed to be appealing and eye-catchy. The package was designed in such a way that the visuals get the priority. Each illustration depicts the contemporary Sikkimese culture and lifestyle. The package comes with a story, and name of the illustrator along with their online handle. This way it helps the product to reach out to a larger group of people through social media promotion. The sachet is designed in such a way that it ensures minimum use of material, optimum use of space, and is easier to tear and pour compared to the regular sachet.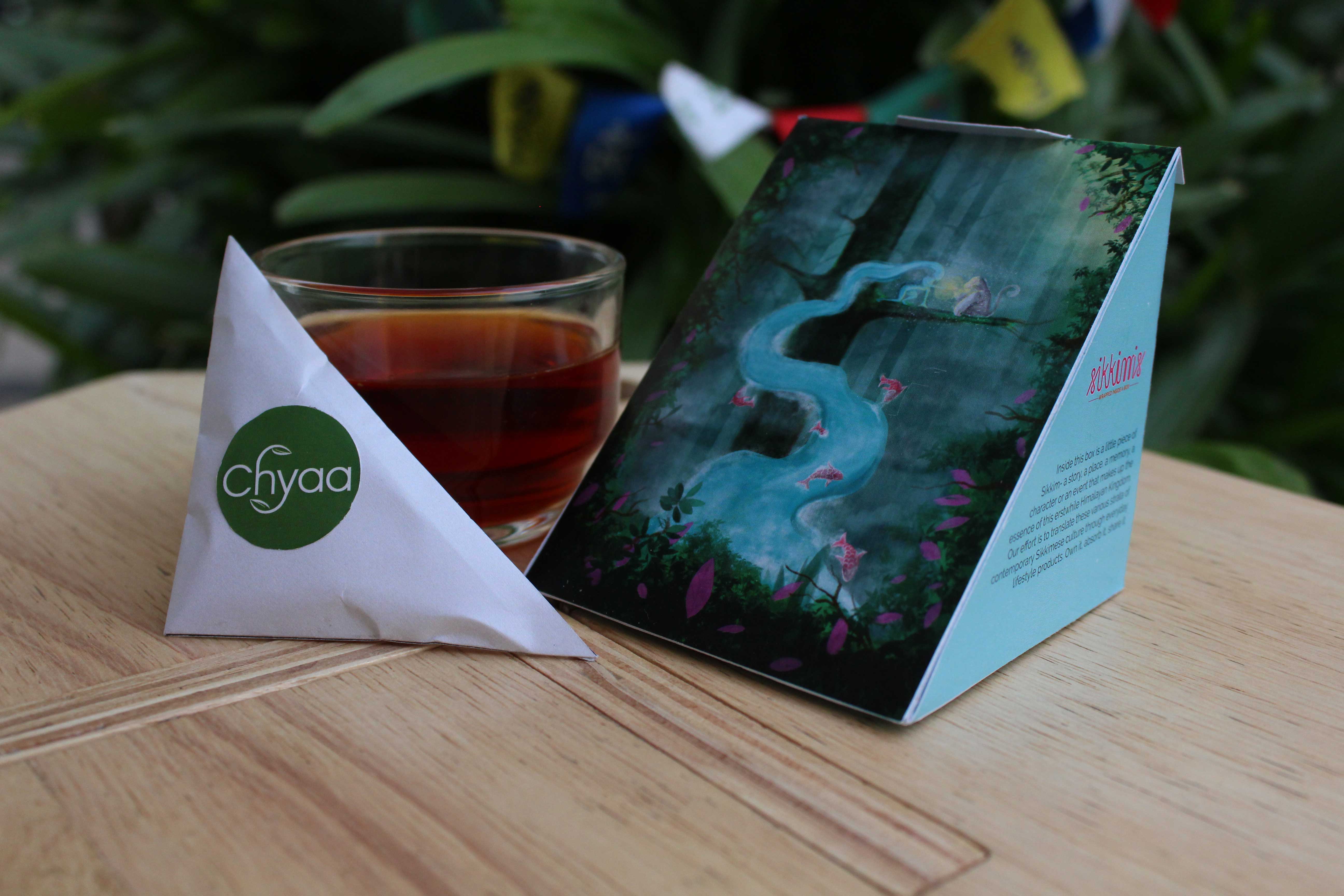 Saka Dewa is the threefold
festival in Sikkim that celebrates
the birth, death, and nirvana of
Lord Buddha and is also considered
the holiest day for Mahayana
Buddhist.
Illustration by Ketaki Meshram
Temi is scenic all year round,
with the many shades of nature
playing into the tea plants as much as
the sunlight plays on the colour of the
might Kanchenjunga peak at
different times of the day.
Illustration by Sanjoyana B. Choudhury
Wooden masks are carved
out of touch light-wood known
as 'Zaru Shing' which is mostly found
in the high altitude areas of Sikkim.
Masks depict different gods, goddesses
and festivals, religious ceremonies and dances.
Illustration by Bharat Manoj
Once a Rum God fell in love with
a lake. He turned into a monkey
and married the lake. That's how the
first Lepcha was born.
Illustration by Roshan Paul
Tapestree is a merchandise brand that provides gifting solutions from the land of Kanchendzonga. Ranging from authentic infused tea and tea coasters to t-shirts and notebooks. To know more about Tapestree, click here ︎
Tapestree