Afternoon
Sitting in front of a desert cooler and eating watermelon with my sister, on a hot summer afternoon is the reason why I wrote this story. I consider myself highly responsible for all the chocolate factories and cotton candy farms in my sister's head. We both built our World around us using our imagination. So when the classroom project brief came where we had to construct our narrative and tell the story we had always wanted to, I knew this would be fun. Afternoon is a short story on how two sisters spend a lazy summer afternoon when their mother is fast asleep.
Throughout the course we learned about three-act structure, Hero's Journey, Common Archetypes and their inner and outer journey and various other aspects that helped us construct our story. While making Character Bible we learned how a character's lifestyle, personal interests, behavior, and upbringing can shape the character visually as well as conceptually. Five scenarios were made to give an idea of the visual language of the animation film if produced in the future.
Character Design & Visual Narrative, November 2017
Project Mentors: Jemma Jose & Gautam Chakraborthy

On a hot summer afternoon, two sisters, Kanni and Kukku end up having nothing to do in their life. But things take a huge turn when they find themselves stranded in an island surrounded by sharks. With the help of a red balloon, they go on to a journey that they never imagined of. On their way, they meet the colourful and warmth filled creatures from Kukku's picture book collection. They jump along on the sky only to end up in a farm filled with pinwheels. But just when they think that they are having the time of their life
the pinwheels are struck with massive heatwaves. Kukku and Kanni find the source of destruction and brave themselves onto it. When it finally gets over and when they are just about to heave a sigh of relief they hear another door open only to find themselves back into the real world.
A 9-year-old girl, grown up in a Marathi family who is a bit odd compared to others her age. She is more of a person who stays to herself. She likes to read books and enjoys scraping off the ice from the freezer. She likes to stay at home but enjoys reading books with characters that go out on adventures. She always seems like she's lost in her own World. Living in a middle-class Marathi family she has grown up restricting herself from asking more than she wants. She is always scared of asking something more. to her parents. She loves her sister but doesn't show it any form.
After studying Gayathri, my batch mate, for an entire day I observed how she has her comfort in sitting in a certain way. Her peculiar sitting stance is one of the inspiration for Kukku.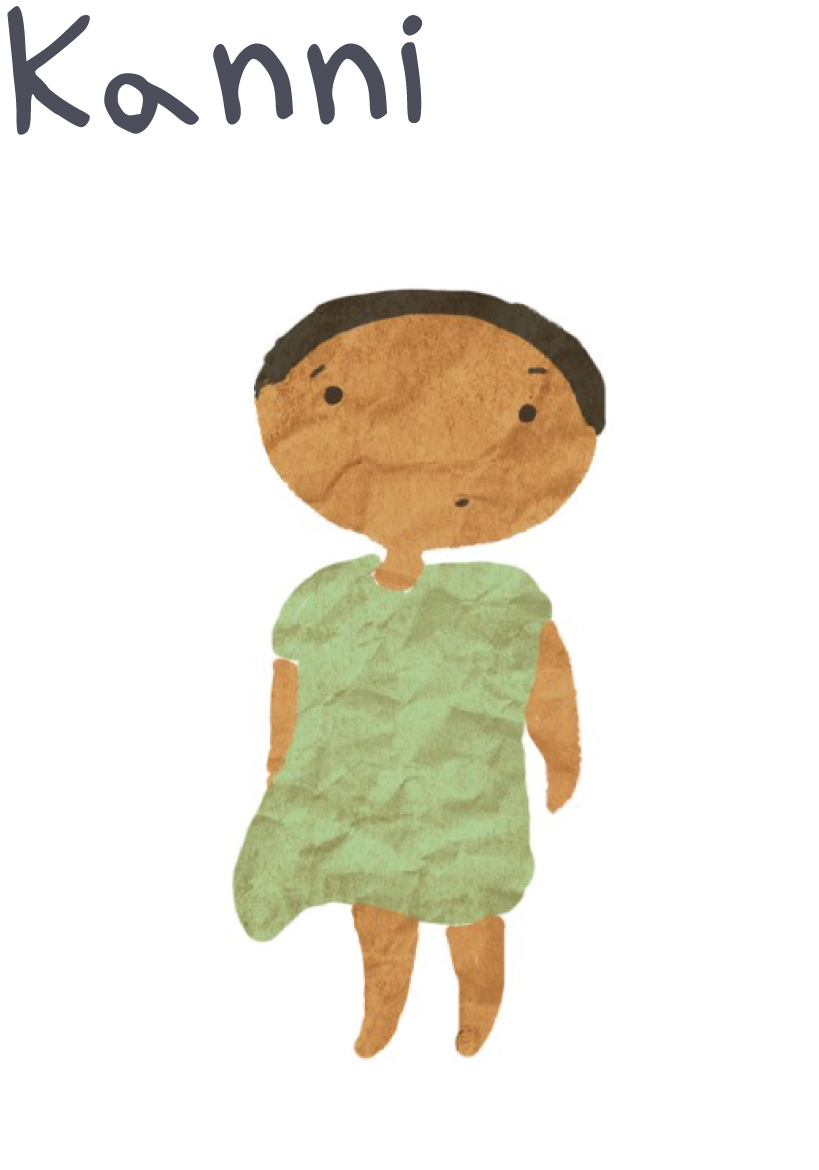 Kanni, a 5-year-old girl who is generously active and always curious of what her sister is up to. She enjoys spending time with her sister because there's no one else of her age around her. She loves to eat biscuits with tea and is her father's favorite. One can always see her running around in the house because she is full of energy.
Sugam, a 28-year-old woman, mother of Kanni and Kukku and a housewife. She likes to sleep in the noon hours and loves to drink chai after getting up. She is usually just bored doing nothing at home. She loves to read Marathi novels (Kadambari) and secretly desires to write one herself. Married at an early age she sees her dreams getting fulfilled through her elder daughter. She spends her day reading, watching TV, listening to the radio while making food and doing household chores.